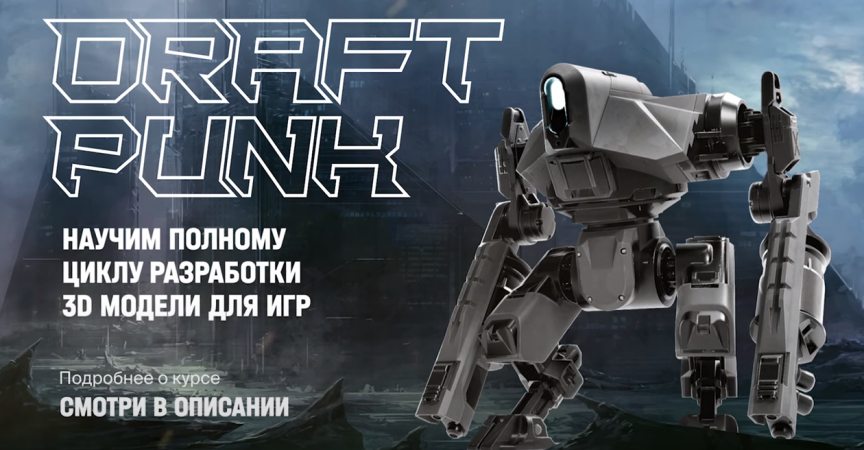 Draft Punk 4.0 – 3D Modeling for Games (Russian, Eng sub)
Release date:2021, May 8
Duration:23 h 59 m
Author:Viktor Kotov, Anton Ageev, Dmitrij Kopejkin
Skill level:Beginner
Language:Russian
Exercise files:Yes
The course aims to help you take the first step towards the profession of a 3D modeler. In 6 months, you will learn how to create models for games and deal with the technical part of modeling: all these high-poly, low-poly, sweep and baking.
Who Is The Course For?
For beginner 3D artists. You will understand the cycle of creating a model from the concept to the final submission. You'll make useful acquaintances and learn how to model, so you don't have to redo it later.
For designers and 2D artists. You will increase your income because they pay more for 3D. Strengthen your portfolio. You will open up new opportunities for creativity and professional growth.
For indie developers. You will learn how to quickly make simple but expressive models to be less distracted from development and not waste time on asset stores and marketplaces.
What You'll Learn:
Create 3D models for games according to the correct algorithm: first form and expressiveness, then sweep, baking, and textures.
a Better understanding of how to use 3D modeling software (Maya, Blender, Substance Painter, Marmoset Toolbag) and Photoshop.
To cause a "wow effect" among friends, HR's and customers with the help of a beautiful presentation, place models on Sketchfab and Artstation.

Curriculum:
Block 1. Introduction to the course
The path of development of a 3D artist and employment in the field.
How the training program works.
How to do homework and upload them to Sketchfab.
Block 2. Pipeline — model creation algorithm
What is a pipeline … and why it's so important to stick to it.
Pipeline stages. Which ones, how many, and what do you need to know?
Variations of the pipeline. Different approaches to creating 3D models.
Block 3. Draft sketch of the model
Its features and the creation process.
What are references? How to search for them, analyze them, and use them.
What are primitives and proportions, and how to create silhouettes.
How to color a draft and make it expressive.
The importance of detail and how damage makes the model more enjoyable.
Block 4. Technical stages of model creation
What is topology, and why is it important? The most common mistakes and how to avoid them.
Why do we need a detailed high—poly model – high-poly? How to create and what to do with it next.
Why do we need a lightweight, low—poly model – low-poly? How to create and what to do with it next.
What is UV scanning, and how to make and optimize it?
What is baking and how to bake properly in Marmoset Toolbag?
Block 5. Textures
We study the information about the section and consider the files needed to complete the tasks of the block.
Let's figure out what PBR is and how to make realistic textures and models of "metals" and "non-metals."
We learn how to work with Substance Painter, transfer textures to 3D models, and get acquainted with baking maps.
Block 6. Feed
We will learn how to emphasize the advantages and hide the disadvantages of the model with the help of light, shadow, and composition.
We understand how to prepare and arrange the work to attract the attention of other modelers, HR's, and customers.
Table of Contents
.
├── 1. Introduction to the course
│ ├── 1. About the profession
│ │ ├── 1. Ways to develop a 3D artist
│ │ │ └── 1-1_Ways to develop the 3D artist-v2
│ │ └── 2. Employment
│ │ └── 1-2_Employment-v2
│ ├── 2. About the course
│ │ ├── 1-3_What is the course-v2
│ │ └── 1-4_How the course program is built-v2
│ └── 3. Hydline on homework
│ ├── 1-5_Homework Hydline-v2
│ ├── 1-6_Loading the model on Sketchfab-v2
│ └── Sketchfab – load and set up the draft
├── 2. Pipeline
│ ├── 1What is Pipeline
│ │ └── 2-1_What is Pipeline-v2
│ ├── 2 Basic steps of a Pipeline
│ │ └── 2-2 │ ├─── 2.
│ ├── 3It is important to know
│ │ └── 2-3_Important to know-v2
│ ├── 4Payplane variations
│ │ └── 2-4_Pipeline-v2 variations
5 A few words about Mid-Poly
│ └── 2-5_a few words about Mid-Poly-v2
├── 3. Draft
│ ├─── 1Payplan of the draft
│ │ └── 3-1_Draft-Playline-v2
│ ├── 2Work with references
│ │ ├── 1About references
│ │ └─── 3-2_On references-v2
│ │ ├── 3Analysis of references
│ │ │ └── 3-3_Analysis of references-v2
│ │ └── 4DZ References
│ │ └── DZ-Reference
│ ├── 3Blocking
│ │ ├── 1Primitives and proportions
│ │ │ └── 3-4_Primitives and proportions-v2(1)
│ │ ├── 3PS Primitives
│ │ 𥀜──── Breakdown into primitives
│ │ │ └─── Fracturing into primitives_reviewing work
│ │ ├── 4Blocking
│ │ └─── 3-5_Blocking-v2
│ │ ├── 5PS Blocking
│ │ ├─── Answers to questions 220221
│ │ │ └─── Checking work 220221
│ │ ├── 6DZ Blocking
│ │ └─── DZ Blocking
│ │ ├── 7Silhouettes
│ │ └─── 3-6_Silhouettes-v2
│ │ └── 8DZ Silhouettes
│ │ └── DZ-Silhouettes
│ ├── 4Fine and secondary forms
│ │ ├─── 1Precision and secondary forms
│ │ │ └─── 3-7_ Clarification and secondary forms-v2
│ │ ├── 2Expression
│ │ └─── 3-8_Visibility-v2
│ │ └── 5Painting
│ │ └── 3-9_Painting color-v2
│ └── 5Detailing
│ ├── 1Detail
│ │ └── 3-10_Detail-v2
│ └─── 3On damage
│ └── 3-11_O Damage-v2
├── 4. Technical phases
│ ├─── 1Matter (topology)
│ │ ├── 1Subjects
│ │ └── 411 Sub-objects
│ │ ├── 2Rings and loops
│ │ └── 412 Edge Loop, Edge Ring
│ │ ├── 3What is a topology
│ │ └── 413 What is topology
│ │ ├── 4Major topology errors
│ │ └─── 414 Basic topology errors
│ │ └── 5Edge Flow
│ │ └── 415 Edge Flow
│ ├── 2High-Poly
│ │ ├── 1High-Poly requirements
│ │ └── 421 Basic requirements for HP(1)
│ │ ├── 2Way to create HP
│ │ └── 422 Ways to create HP (Sub-D, Sculpt)(1)
│ │ ├── 3How Sub-D works
│ │ └── 423 How does Sub-D(1) work
│ │ ├── 4Creating supports
│ │ ├── 4241 Practice
│ │ └── 424 Creation of Support Loops
│ │ ├── 5Crises
│ │ └── 425 Crises
│ │ ├── 6Transitions and geometry stitching
│ │ 𥀜── 4261 Practice
│ │ └── 426 Geometry transitions and stitching
│ │ ├── 8Small detailing and floaters
│ │ └── 427 Fine detail and floaters
│ │ └── 9Acceleration in ZBrush
│ │ └── 428 Accelerating work with ZBrush
│ ├── 3Low-Poly
│ │ ├── 1Basic rules
│ │ └── 431 Basic LP rules (1)
│ │ ├── 2Detail level
│ │ └── 432 Selecting the level of detail
│ │ ├── 3Way to create an LP
│ │ └── 433 Ways to create an LP
│ │ ├── 4Optimization
│ │ └── 434Optimization
│ │ ├── 5Geometry stitching
│ │ └── 435 Stitching of geometry
│ │ ├── 6Shading
│ │ └── 437Shading
│ │ ├── 7Lock normals
│ │ └── 438 Locked normals
│ │ └── 9Retopology
│ │ └── 439 Retopology
│ ├── 4UV Mapping
│ │ ├── 1What is UV
│ │ └── 441 What is UV
│ │ ├── 2Playlines of UV creation
│ │ └── 442Pipelines for UV creation
│ │ ├── 3Mapping methods
│ │ └── 443 Methods of mapping and creating seams
│ │ ├── 4Unfold UV
│ │ └── 444 Unfolding shelves
│ │ ├── 5 UV alignment
│ │ └─── 445 Alignment of UV-shells
│ │ ├── 6Texel
│ │ └── 446 Texel
│ │ ├── 7Optimization of the UV space
│ │ └── 447Optimization of the UV
│ │ ├── 8Packing and padding
│ │ └── 448 Packaging UV
│ │ └── 9Rectangular textures
│ │ └── 449 Rectangular textures
│ └── 5Baking
│ ├── 10Bake in 2 passes
│ │ └── 03 Bake in 2 passes
│ ├── 11Fixing artifacts
│ │ └── 04 Fixing artifacts
│ ├── 12Padding
│ │ └── 05Padding
│ ├── 13Further information about Normal
│ │ └── 06For more information about Normal Map
14Ambient Occlusion
│ │ ├── 07 Ambient Occlusion
│ │ ├── 08 Ambient Occlusion
│ │ └── 11 Features of the AO sash
│ ├── 15Additional cards
│ │ ├── 09 Curvature
│ │ └── 10 Material ID
│ ├── 16[Stream 2] Answers to questions
│ │ └── 12 Answers to questions
│ ├── 2Preparing the model
│ │ └── Preparing the model
│ ├── 3Cage and baking process
│ │ └── Cage and baking
│ ├── 4Shading
│ │ └── Shading
│ ├── 5Shading
│ │ └── Bevels
│ ├── 6Normals and working with them
│ │ └── Normals and work with them
│ ├── 7[Stream 1] Answers to questions
│ │ └── Answers to questionsmov
│ ├── 8Swapping overlaps
│ │ └── 01 Overlap offset
│ └── 9Test bake
│ └── 02 Test bake
├── 5. Textures
│ ├── 2The theory of PBR
│ │ ├── 1PBR Materials
│ │ ├─── 01_PBR_Type_Materials
│ │ │ ├── 02_PBR_Fresnel effect
│ │ │ ├── 03_PBR_Freshener effect
│ │ │ ├── 04_PBR_Albedo
│ │ │ ├── 05_PBR_Reflectivity
│ │ │ ├── 06_PBR_Microsurface
│ │ │ └ ─ ─ 07_PBR_Pipelines
│ │ ├── 2PBR Pipelines
│ │ ├─── 08_PBR_Spec-Gloss
│ │ │ ├── 09_PBR_Metallic_Roug
│ │ │ ├── ─ 10_PBR_ Comparison of Pipelines
│ │ └── 11_PBR_How to fix the white outline
│ │ ├── 3PBR Auxiliary textures
│ │ │ ├── 01_Ambient_Occlusion
│ │ │ ├── 02_Curvature
│ │ │ ├─── 03_World_Space_Normal
│ │ │ ├── 04_Position
│ │ │ ├── 05 Color_ID
│ │ │ ├── 06_Emissive
│ │ └─── 07_Thickness
│ │ └── 4PBR Material Calibration
│ │ └ ── PBR Validate
│ └── 3Workflow Basics
│ ├── 10Filters & Passthrough Blend
│ │ ├── 10 Filters & Passthrough Blend
│ │ └── Filters Passthrough Blend
│ ├── 11Anchor Points
│ │ ├── 11_Anchor Points
│ │ └── Anchor Points
│ ├── 12Paint Tools Brush & Eraser
│ │ ├── 12 Paint Tools Brush & Eraser
│ │ └── Paint Tools Brush Eraser
│ ├── 13Paint Features
│ │ └── Paint Features
│ ├── 14Presets
│ │ └── 13 Presets
│ ├── 15Filter Gradient
│ │ └── 14 Filter Gradient
│ ├── 16Generator UV Border Distance
│ │ └── 15 Generator UV Border Distance
│ ├──Quick Mask 17
│ │ └── 16 Quick Mask
│ ├── 18Export Textures
│ │ └── 17 Export Textures
│ ├─── 19Export Configuration
│ │ └── 18 Export Configuration
│ ├── 1Baking maps
│ │ ├── 01 Baking maps
│ │ └── Baking maps
│ ├── 20Opacity
│ │ └── 19 Opacity
│ ├── 21PBR Material calibration
│ │ └── PBR Validate
│ ├── 2Fill Layers Pipeline
│ │ ├── 02 Fill Layers Pipeline
│ │ └── Fill Layers Pipeline
│ ├── 3Generators
│ │ ├── 03 Generators
│ │ └── Generators
│ ├── 4Paint Effect
│ │ ├── 04 Paint Effect
│ │ └── Paint Effect
│ ├── 5Polygon Fill
│ │ ├── 05 Polygon Fill
│ │ └── Polygon Fill
│ ├── 6Base Masks
│ │ └── 06 Base Masks
│ ├── 7Smart Masks
│ │ ├── 07 Smart Masks
│ │ └── Smart Masks
│ ├── 8Smart Materials
│ │ ├── 08 Smart Materials
│ │ └── Smart Materials
│ └── 9Normal & Height
│ └── 09 Normal & Height
├── 6. Filing
│ ├── 1(Buttons) Marmoset Toolbag
│ │ ├── 1Interface and navigation
│ │ │ └── 1Interface and navigation
│ │ ├── 2Scene objects
│ │ └── 2Objects of the scene
│ │ ├── 3Environment and lighting
│ │ └─── 3Environment and lighting
│ │ ├── 4Camera
│ │ └─── 4Camera
│ │ ├── 5Additional scene objects
│ │ └─── 5Additional scenes
│ │ ├── 6Materials
│ │ └─── 6Materials
│ │ └── 7Render parameters
│ │ ├── 7Render settings
│ │ └── Sketchfab – marmoseet toolbag 4
│ └── 2Render and pitch
│ ├── 1Import and adjust the model
│ │ └── 1Import and adjust
│ ├── 2Camera angle
│ │ └── 2Facing
│ ├── 3Setting the light
│ │ └── 3Lighting
│ └── 4Marmoset Viewer
│ └── 4Export Viewer-a
├── [XYZ School] Draft Punk 4.0 – 3D Modeling for Games.7z.rar
├── [XYZ School] Draft Punk 4.0 – 3D Modeling for Games_Subtitles.7z
├─── Common Streaming
│ ├── 01. DP4 – 40 min Draft, Streaming with Students. 07.08.20
│ ├── 02. DP4. Introductory Stream
│ ├── 03. Pipeline and draft exposure
│ ├─── 04. Reference analysis breaking into primitives
│ ├─── 05. Blocking
│ ├─── 06. Silhouettes
│ ├─── 07. Clarification and secondary forms
│ ├─── 08. Painting the draft in color
│ ├── 09. Tertiary shapes
│ ├── 10. Sketchfab pour and customize draft-01
│ ├── 10. Sketchfab pour and set up draft-02
│ ├── 11. Breakthrough Streaming
│ ├── 12. High-poly
│ ├── 13. Using ZBrush to create HP
│ ├── 14. Low-Poly
│ ├── 15. Parsing HP cases
│ ├── 16. The first stream of 21 years
│ ├─── 17. UV Mapping
│ ├── 18. Bake. Part 1
│ ├─── 19. Bake. Part 2
│ ├── 20. Yeah, it's a stream.
│ ├── 21. About textures
│ ├── 22. Another Friday stream
│ ├── 23. Serving
│ ├── 24. Another Friday Stream 2
│ ├── 25. Tile textures. Trims and atlases.
│ ├── 26. Friday Stream v3.0
│ ├── 27. Another Friday
│ ├── 28. Draft Punk. Meet UV Layout and more punking methods
│ ├─── 29. Talking Talk
│ ├── 30. Draft Punk. Let's talk about designers
│ ├── 31. Feedback night
│ ├── 32. Streaming without prettiness
│ └── 33. Last call. October
└─── Streams, mentor debriefs
├─── Igor's band (then he left)
│ └─── 27 01 2021 Bottles modeling
├─── Victor Kotov calls
│ ├── 01___Demo check – 08.10.20
│ ├─── 02__Home Check – 10/13/2020
│ ├─── 03_Checking of work – 10/15/20
│ ├─── 04_Check Work – 10/16/20
│ ├─── 05_Check of work – 10/19/20
│ ├──── 06_Separation of Works – 10/20/20
│ ├───── 07_An inspection of work – 10/22/20
│ ├───── 08_Check Work – 10/23.20
09_Dismantling of work – 10/28.20
│ ├── 10__Separation of Works – 10/30/20
│ ├──── 11__Separation of Works – 03.11.20
│ ├── 12__Separation of Works – 06.11.20
│ ├─── 13__Separation of Works – 04.11.20
│ ├──___Separation of Works – 05.11.20
│ ├─── 15__Proof work – 11.11.20
│ ├──── 16__Protection of works – 11.11.20
│ ├─── 17__Proof work – 12.01.21
│ ├─── 18___Check of works – January 20, 21
│ ├──___Check of works – 21.01.21
│ ├── 20___Questions on High-Poly in Zbrush (21.01.21)
│ ├─── 21__Procedure check – 01/25/21/21
│ ├─── 22__Proof work – January 27, 21
│ ├─── 23__Proof work – 28.01.21
│ ├──___playing Horizon Zero Dawn (and taking it apart)
│ ├── ─ ─ 25__Protecting the works – 01.02.21
│ ├── 26__Proof work – 08.02.21
│ ├──── 27__Check of works – 09.02.21
│ ├ ── ─ ─ 28_Check of works – 02.02.21
│ ├──___UV Layout 29
│ ├─── 30__Proof Work – 10.03.21 (textures + atlases)
│ └── 31___Check work – 09.04.21 (rendering and filing)
├─── Calling Dmitry Kopeikin
│ ├─── 01_Call – 08.10.2020
│ ├── 02___Call – 10/13 2020
│ ├── 03_Call – 10/15 2020
│ ├──___Call – 20.10.2020
│ ├─── 05__Call – 22.10.2020
│ ├──── 06_Call – 10/27 2020
│ ├──── 07_Call – 29.10.2020
│ ├──___Call – 05.11.2020
│ ├──___Call – 09.11.2020
│ ├── 10__Call – 11/10/2014
│ ├── 11___Call – 11/18/2020
│ ├── 12__Call – November 19, 2020
│ ├── 13__Call – 11/25/2020
│ ├───── 14__Call – November 26, 2020
│ ├─── 15__Call – 07.12.2020
│ ├──___Call – 08.12.2020
│ ├──── 17__Call – December 10, 2020
│ ├── 18__Call – December 15, 2020
│ ├──___Call – December 17, 2020
│ ├──___Call – December 22, 2020
│ ├──── 21_Call – 24.12.2020
│ ├── 22__Call – December 29, 2020
│ ├── 23__Call – 18.01.2021
│ ├──___Call – 19.01.2021
│ ├───___Call – 21.01.2021
│ ├── 26___Call – 26.01.2021
│ ├──___Call – 01.02.2021
│ ├─── 28__Call – 02.02.2021
│ ├──___Call – 09.02.2021
│ ├──── 30__Call – 02/11/2021
│ ├── 31___Call – February 16, 2021
│ ├── 32__Call – February 18, 2021
│ ├──___Call – 24.02.2021
│ ├───── 34__Call – February 25, 2021
│ ├ ─ ─ ─ ─ 35__Call – 03.03.2021
│ ├──── 36_Call – 03.03.2021
│ ├── 37___Call – March 17, 2021
│ ├──── 38__Call – March 24, 2021
│ ├── 39__Call – 31.03.2021
│ └── 40__Final call – 29.04.2021
└── Streams by Anton Ageev
├─── 01___13_10_2020 Blockout
├── 02___21_10_2020 Blockout 2-01
├── 02___21_10_2020 Blockout 2-02
├── 03___28_10_2020 Tile material
├─── 04___04_11_2020 Brick material (WiP)
├─── 05___11_11_2020 Floor material in UE4
├─── 06___21_11_2020 Wall constructor
├─── 07___25_11_2020 Create texture
├─── 08___02_12_2020 Board material
├─── 09___09_12_2020 Second UVset
├─── 10___16_12_2020 Log material
├── 11___23_12_2020 Detail Map
├─── 12___13_01_2021 Plants part 1
├── 13___20_01_2021 Candles
├─── 14___27_01_2021 Subdive modeling
├─── 15___03_02_2021 Subdive modeling part 2
├─── 16___10_02_2021 Lowpoly, mapping
├─── 17___17_02_2021 Baking
├─── 18___24_02_2021 Texturing
├─── 19___03_03_2021 Color Customize
├─── 20___10_03_2021 Ivy Grape. Part 1
├── 21___24_03_2021 Ivy Grape. Part 2
├─── 22___31_03_2021 Ivy Grape. Part 3
├─── 23___07_04_2021 Pipes. Part 1
├─── 24___14_04_2021 Pipes. Part 2
├─── 25___21_04_2021 Ivy Grape. Part 4
├─── 26___28_04_2021 Pipes. Part 3
└─── 27___05_05_2021 Damaged Floor. Part 1
Watch online or Download for Free