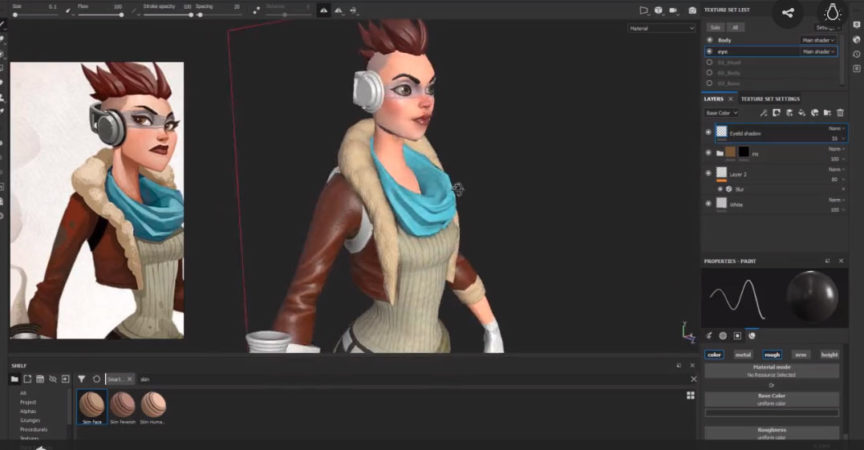 Character Modeling & Texturing For Game – Complete Pipeline
Release date:2018, August
Duration:23 h 31 m
Author: Nalini Kanta Jena
Skill level:Beginner
Language:English
Exercise files:Yes
What you'll learn
Character Modeling & Sculpting in Zbrush
Retopology in Maya, Topogun & Zbrush
UV Unwrapping in Maya
Baking Maps in Substance painter
Texturing in Substance painter
Rendering in Substance Painter
Requirements
This course is for beginners so there isn't any prior knowledge required. you can start from scratch.
You need to install Zbrush, Maya, Topogun and Substance painter for follow along.
You need to have a pen tablet for sculpting.
You need to have a strong desire and patients to learn these topics because it's a 23 hour's long course.
Description
Hi, Welcome to Character Modeling & Texturing For Game – Complete Pipeline Course.
In this course you will Learn to sculpt, retopo & texture an animation ready character for game in Zbrush, Maya, Topogun and Substance Painter.
Do you want to learn the full process to make a character for game ? if so then this is the course for you.
List of Major Components
Modeling and Sculpting Characters Using Zbrush
Retopology using Maya, Topogun & Zbrush
UV Unwrapping in Maya
Texturing Characters and Props Using Substance Painter
Baking Maps
Rendering in Substance Painter
Let's see how the course is designed and what's there for you. There would be 13 modules.
1st module – you will learn Zbrush from scratch, Sculpting and poly painting basics by working on a small stylized head project.
2nd module – I am going to start the main character project and you will learn how to start and block in the character from scratch using dynamesh and zsphere.
3rd module – you will learn how to block in the clothing of the character using different method I use in production.
4th module – you will learn how to define the face features and making it look beautiful.
5th module – you will learn how to sculpt stylized hair using zmodeler and some specific brush.
6th module – I will show you how to sculpt stylized clothing wrinkles.
7th module – you will learn all about modelling and sculpting hard surface object zmodeler, dynamesh and some other Technics
8th module – you will learn Maya Basics and this module is for absolute beginners.
9th module – I will do the character retopology in Maya, Topogun and Zbrush. We are going to start with Maya retopo and here you will learn how to use Quad draw tool for retopology. And then I am going to switch to Topogun a specialized retopo software, and you are going to learn it's magical tools to retopo your character with speed. Then we are going to see how we can also use Zbrush to create low poly
10th module – you are going to learn character UV unwrapping using Maya 2018 new tool set. Here I am going to show you various ways to unwrap and some new powerful tools. And finally we are going to create the UV layout.
11th module – , I am going to start baking various maps such as Normal, Ambient occlusion, Curvature, position, thickness and Color ID map using Substance painter. I am also going to show you how to eliminates any errors in those maps.
12th module – we are going texture the character inside substance painter. First I am going to start with the very basics of the software and then I am going to texture the clothing, you are going to learn how to create leather jackets. Later I am going to make the character look a little dirty by adding a dirt layer. then I am going to work on the skin and the make up on the face and we are going to paint the eyes next. Then I will put some metal materials on the hard surface parts. Then you will learn how to create glowing emmisive parts. And finaly we are going to render our character with iray.
13th module – then in the final module, I am going to conclude and wrap up the course.
Ideal Students
I have designed this course keeping beginners in mind but it can be very useful for intermediate to advance character artist and students who wants to create their own characters from start to finish but struggles with it because they lack step by step guidance.
Who is the target audience?
Beginner to intermediate level 3d students and artists who wants to learn the full pipeline to create characters for game.