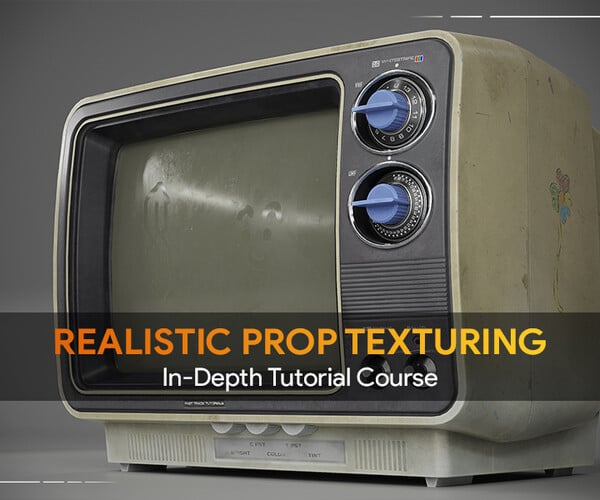 Realistic Prop Texturing – In-Depth Tutorial Course
Release date:2023
Author:FastTrackTutorials & ScansMatter
Skill level:Beginner
Language:English
Exercise files:Yes
Vintage TV Texture- In-Depth Tutorial Course
Learn how to texture and render a hero asset from start to finish for video games & film. You'll learn techniques like Anchor Point usage, Custom Alpha Painting, Lighting and Rendering, Unique Texturing, and more!
SUBSTANCE 3D PAINTER, ADOBE ILLUSTRATOR, AND MARMOSET.
All the texturing will be done in Adobe Substance 3D Painter, and the rendering will be done in marmoset toolbag 4. We will also make use of Adobe Illustrator to create custom alphas.
In this course, you will learn everything you need to know to create the final results you see in the images and trailers. Next to this, the same techniques can be applied to almost any type of model.
18+ HOURS!
This course contains over 18+ hours of content – You can follow along with every single step – The system does enclose a few small-time lapses. This speeds up repetitive tasks; the rest is done in real-time.
We will start by reviewing some baking errors you may encounter and how to fix them. Then, we will create all our height information to use anchor points. We will then make our base materials, add storytelling in the form of wear and tear, crayon drawings, and more; we will create various bits of text in Adobe Illustrator to use on our model and do some final polish.
Once that is done, we will export all the artwork to Marmoset Toolbag 4 and set up our lighting and cameras for render.
SKILL LEVEL
This asset texturing course is perfect for students who have some familiarity with texturing, Substance 3D Painter, and Marmoset – Everything in this tutorial will be explained in detail. However, if you have never touched any modeling or texturing tools before, we recommend that you first watch an introduction tutorial of those programs (you can find many of these for free on YouTube or paid on this very website)
TOOLS USED
Substance 3D Painter
Adobe Illustrator
Marmoset Toolbag 4
YOUR INSTRUCTOR
Handy Chevron is a self-taught Hard Surface artist currently working for NVIDIA and Dekogon as a freelance artist.
CHAPTER SORTING
There's a total of 34 videos split into easy-to-digest chapters.
All the videos will have logical naming and are numbered to make it easy to find exactly the ones you want to follow.
SUBTITLES
Subtitles are offered for this tutorial in English, Spanish, and Chinese.
So that you know, the subtitles are auto-generated and might not always be 100% accurate.
REVIEW
If you place an honest review on this product, you will automatically be entered in our quarterly draw, in which you can win a free tutorial Course!