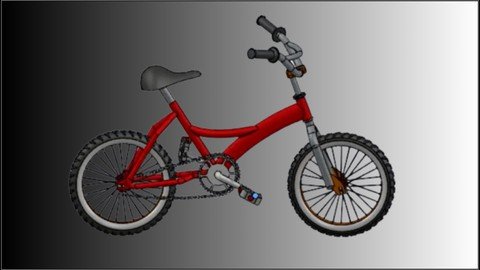 SolidWorks Learning by Doing Approach
Release date:2021, September 9
Author:Sabyasachi Majumder
Skill level:Beginner
Language:English
Exercise files:Yes
What you'll learn:
Students will learn the necessary sketching tools and features for modeling up-to professional level
Students will be able to create any complex model using SolidWorks software
Students will be able to perform any complex assembly using SolidWorks software
Students will be able to perform Mechanism Analysis & Motion study of Basic Components
Students will be able to perform CFD Analysis in Basic level
Requirements:
Students should have basic knowledge of Engineering Drawing.
Description:
This is a CAD and CAE basic course for the beginners. From this course students will learn basic geometric modeling, assembly, a little bit of motion Study and a bit of CFD Analysis using SolidWorks. This course consists of two sections. First section consists of 15 videos containing modeling of important Mechanical components and second section consists of 5 videos containing Assembly, Motion Study, Mechanism Analysis and a basic CFD Analysis. Modeling and assembly parts includes shell-tube heat exchanger, Quad-Rotor or Drone, Condenser Heat Exchanger etc. Second part contains Modeling & CFD Analysis of Fluid through Venturi-metr, Mechanism Analysis of a Mechanical Griper and Motion Study of a Quad Rotor. After completing this course students will be able to model any mechanical component up-to beginners level. They will be able to assemble any complex mechanical components and they will be able to perform basic internal CFD Analysis and a bit of Mechanism Analysis and Motion Analysis.
Together with the beginners level, intermediate learners will also get enough confidence from this course. Utmost care has been taken while preparing this course, specially keeping in mind about the beginners and intermediate learners. Students will get relevant CAD model as a resource for practice purpose. By the same time they will be provided all support through message and all their quarries will be answered immediately.
Who this course is for:
Engineering students who want to start their career as a Design Engineer can have enough confidence from this course.