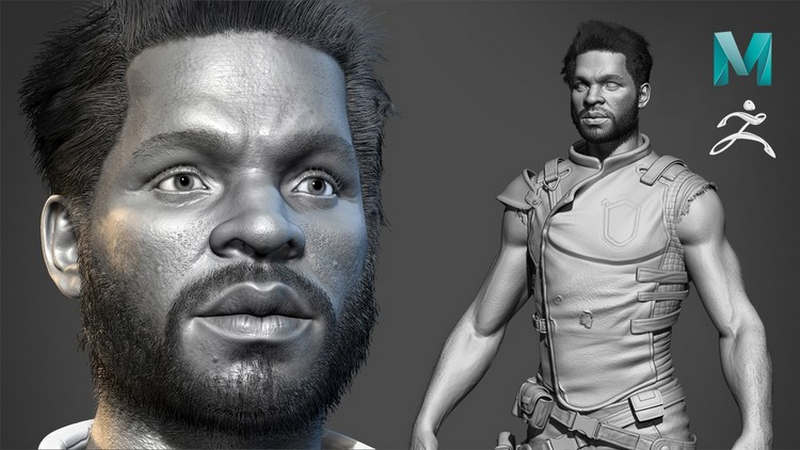 Realistic Character Modeling For Game In Maya and Zbrush
Release date:2018, June
Duration:21 h 06 m
Author:Nalini Kanta Jena
Skill level:Intermediate
Language:English
Exercise files:Yes
What Will I Learn?
Sculpting Realistic Face
Sculpting Realistic Skin Detail
Create Hair, Beard and Eyebrows with Fibermesh
Human Head and Hand Anatomy
Sculpting realistic Cloth for Characters
Hard Surface Gun Modeling in Maya
Realistic Shoe Modeling using ZModeler
Many Production Advice on Making your Character Model Realistic
Requirements
Although this course is for beginners to intermediate level but the human model project itself is of professional level, so I except a lot of dedication and hard work from your side.
You need Zbrush 4r8 and Maya 2018
Description
Reviews by Course Students :
Clarence Rajaratnam (5 Star Rating)
Gonna be a great series with an in-depth character build start. Covers most of the creation of Character and Accessories along with very useful anatomy reference images and textures. One of the the best Character creation tutorial using Maya and Z-Brush, Its a must buy. Cant wait for the rest of the series.
Miguel Thevirum (5 Star Rating)
Congratulations, this is the best course I have studied!!!!! Please don`t stop
Welcome
Hi, Welcome to Realistic Character Modelling for Game in Maya & Zbrush course. This 21+ hour's of video content will teach you how to model and sculpt realistic human characters from scratch step by step.
Do you have any of these Problems?
Do you lack Confidence when it comes to Realistic character modelling?
Is your character model looking like a cartoon or alien even if you don't want that?
Are you fine with props or non organic modeling but find character modeling is difficult?
Do you want to become a character modelling artist but find it difficult to model realistic characters?
Do you wonder How professional people model such realistic characters?
Do you want to switch to character modelling from props or Environment?
If any of these problems that sounds like you are having then this is the perfect course for you.
About the instructor:
My name is Nalin, I am a 3d Modelling and Texturing Artist com Educator.
I began my career as a traditional clay Sculptor. My professional qualification is BFA. I have passed out from B.K College of Art & Crafts, Bhubaneswar.
I have been teaching since 2008 at various Institution such as ZICA, Reliance Education and Arena Animation. I have also worked as a Character Modelling and Texturing Artist at Lakshya Digital and Dhruva Interactive.
Why Should you take this Course?
Learning realistic character modelling is a necessary step towards becoming a character modelling artist for Game and Films. Character modeling artist position is a highly rewarded and demanding position in the Film and Game industry.
By the end of this course you will be able to model realistic human characters for your portfolio so that you can apply for your dream job.
If you are a freelancer then you can learn this and add a new earning method to your bag.
You are going to be a better artist after completing this course.
If you are a student then this is the best course because it shows you how to model a professional quality character model with a step by step approach so that you can follow along.