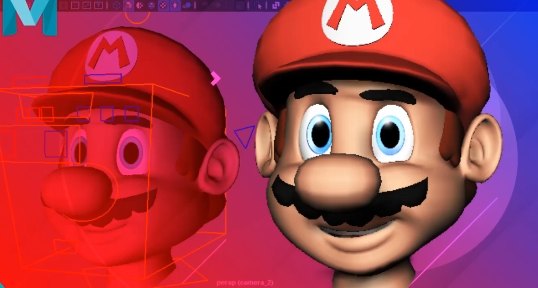 Learn Facial Rigging for Beginners in Maya
Release date:2022, August 13
Author:Anass Cherkaoui
Skill level:Beginner
Language:English
Exercise files:Yes
What you'll learn:
Learn about maya's interface
Prepare your models for the rigging process
Build the character's facial skeleton by creating bone objects
Understand the difference between IK and FK systems
Organizing our 3d scene for best performance
Skinning our 3d character and each tool that will help in improving skin deformations
Mastering FreeForm deformers
Establishing animation controls that will alow the character to be animated
Working with custom attributes
Adding more flexibility and features to a facial rig
And so much more…
Requirements:
No 3d animation or rigging skills required. You'll learn everything from A to Z
Motivation to learn 😉
Description:
Learn the A-Z's that you need to be able to create amazing 3D character rigs and animations with the most popular and powerful 3D art program, "Autodesk Maya"
As the industry standard 3D animation software, learning Autodesk Maya is a great skill to help you land a job in the film, music and gaming industry. In this course, you'll learn how to create and build very robust facial rigs ready for animation from scratch.
Beginner to the world of 3D Rigging and 3D Animation?
We start super simple so you need no prior experience of Autodesk Maya! With our online tutorials, you'll be amazed at what you can achieve. We believe project-based learning is the best way to learn Rigging inside Autodesk Maya.
Learn by doing real world projects!
This course is project-based, so you will applying your new skills immediately to real 3D models.
Throughout this entire course, you'll be working on one of the very famous characters "Super Mario", and learn how to bring a rather stiff to life using 3D Rigging and Animation.
All the project files will be included, as well as additional references and resources – you'll never get stuck!
By the end of the course, you'll truly be inspired by your own skills, and confident in using Autodesk Maya.
Benefit from our world-class support from both other students, and the instructors who are on the forums regularly.
The Best Part?
On top of that, we're going to have fun and end each video in a positive way that will leave us ready for whatever maya or life throws at us!
This is what's also included in the package:
Up-to-date HD-quality videos, that are easy to search and reference
9+ hours of easy-to-follow tutorials
You will get full lifetime access for a single one-off fee
Downloadable project files for every step of the course (solutions included)
Premium support (Q&A) to help you as you take the course
This course is for you if…
… you want to gain a true and deep understanding of 3D RIgging and Facial Rigging in particular
… you have been trying to learn Rigging in maya but: 1) still don't really understand Maya, or 2) still don't feel confident to rig you own characters
… you already know 3d rigging basics and are looking for an advanced topics. This course includes more awesome techniques and very useful techniques!
… you want to get started with 3d rigging and animation in maya: Autodesk Maya is a great and very powerful software for 3D Rigging and Animation!
Ready to have fun?
If so, then start this adventure today, and join me in this amazing journey in 3D rigging!
I am looking forward to seeing you on the course! Remember 3D Rigging and animation is all about having fun too. So have fun along the way!!
Who this course is for:
Anyone interested in 3D Animation and Character Rigging.
Anyone interested specifically in facial rigging
This course is for anyone who wants to learn 3D Rigging but don't know where to start.
It's perfect for complete beginners with zero experience in Rigging.