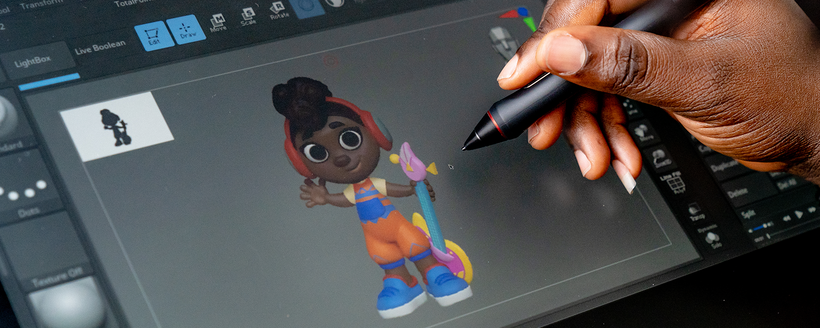 3D Character Design From Drawing to Modeling by Segun Oluwayomi
Release date:2022
Author:Segun Oluwayomi
Skill level:Beginner
Language:English
Exercise files:Yes
Give a new dimension to characters by creating your protagonist in Photoshop before giving it depth and volume with ZBrush and Maya
Portraying a character's personality when rendering in 3D begins with imagination and a 2D sketch. Self-taught visual development artist Segun Samson is passionate about developing captivating characters that connect with their audiences. He has worked with numerous studios including Triggerfish Animation, Dreamcast Animation, and Sunrise Productions.
Discover how to create a unique character concept into readable 3D designs filled with appeal and personality. Build your 2D character in Photoshop, before learning how to block out, sculpt, and fully render your protagonist on ZBrush and Maya.
What will you learn in this online course?
Meet Segun Samson and discover how he became a self-taught visual development artist specializing in character design. Learn about his art heroes and see how they've helped him develop his own artistic style.
Get familiar with the software for your final project before gathering references to create a mood board. Start sketching your character in Photoshop, add color and add details with Segun's guidance.
Begin sculpting your character in ZBrush, starting with your first 3D blockout. See how to refine proportions and positions and block out accessories. Segun then shows you how to add color to your character and refine its pose, before exporting your file.
Import your character in Maya and work on the shaders for each element of your character. Set up the stage for your renders with lights and learn how to use HDRIs. Finish the course by refining the presentation of your character in Photoshop and adding the final details.
What is this course's project?
Create a 2D and 3D character for a TV series project.
Who is this online course for?
For anyone interested in designing a character in 2D and in 3D.
This course is for both beginners as well as professionals in the animation and games industry.
Requirements and materials
Basic drawing knowledge and previous experience in sculpting in ZBrush or similar are helpful but not essential to take this course.
As for materials, you need a computer with Adobe Photoshop, Substance 3D Painter, ZBrush, and a graphic tablet or mouse.