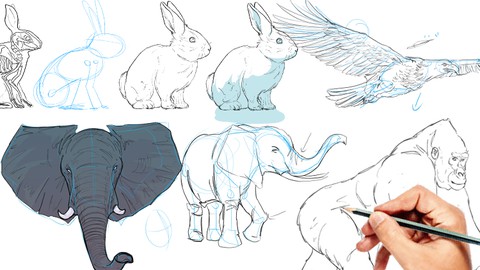 Drawing Animals – The Essential Course -Beginner to Advanced by Ed Foychuk
Release date:2022, December
Duration:06 h 40 m
Author:Ed Foychuk
Skill level:Beginner
Language:English
Exercise files:Yes
What you'll learn
Understand basic animal anatomy
Requirements
Access to printer, or some paper, pencil
Description
This course, "How To Draw Animals," is the perfect fit for beginner and intermediate artists looking to enhance their drawing skills. The course is designed to teach students how to draw animals through a series of video lessons and accompanying pdf. Over the course of 7 hours, students will learn the basics of animal anatomy and how to apply that knowledge to their drawings.
The course starts with 12 animal units, including rabbits, rhinoceroses, gorillas, leopards, horses, armadillos, sharks, monkeys, bats, wolves, eagles, and elephants. As the course grows, more animal units will be added based on student feedback. The course is structured for students to follow along with the pdf and practice by filling in the blank pages with their own drawings.
This course is suitable for those who have basic drawing skills and access to a printer or some paper and a pencil. Whether you're a beginner who wants to start drawing again or an intermediate artist looking to round out your skills, this course offers a fun and detailed way to improve your animal drawings.
Our first animal units will be
Rabbits
Rhinoceros
Gorillas
Leopard
Horses
Armadillo
Sharks
Monkey
Bats
Wolves
Eagles
Elephants
Who this course is for:
Beginner and Intermediate artists
People looking to start drawing again