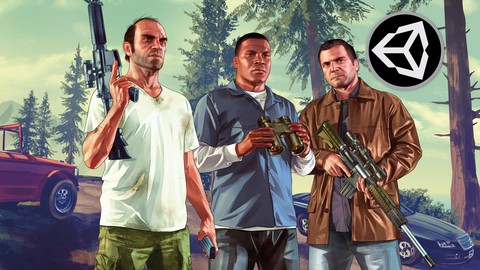 Learn and Build GTA V Game Clone using Unity Game Engine
Release date:2022, August 8
Author:WITS Gaming
Skill level:Beginner
Language:English
Exercise files:Yes
What Will I Learn?
GTA 5 Game Clone
3D Game Development
How to make Story Based Games
Build Weapons Inventory System in 3D Game
Build Vehicles | Car System in 3D Game
Police System in 3D Game
Wanted Level System
Professional Humans AI Controllers
Professional Cars | Vehicles AI System
Player Health System
Player Wealth Money System
Player Map System
and much more.
Requirements
you must have some basic unity knowledge
you must have some basic programming knowledge
Description
In this course you will learn how to build professional games like gta v using unity game engine. So you will learn and develop step by step in this course the GTA 5 Game with your own complete story.
Grand Theft Auto V is a action-adventure game developed by Rockstar North and published by Rockstar Games. It is the seventh main entry in the Grand Theft Auto series, following Grand Theft Auto IV, and the fifteenth instalment overall.
Unity is a cross-platform game engine developed by Unity Technologies, first announced and released in June at Apple Worldwide Developers Conference as a Mac OS X game engine. The engine has since been gradually extended to support a variety of desktop, mobile, console and virtual reality platforms.
Game Development is the art of creating games and describes the design, development and release of a game. It may involve concept generation, design, build, test and release. While you create a game, it is important to think about the game mechanics, rewards, player engagement and level design.
Video game developers help transform games from a concept to a playable reality. They do this by coding visual elements, programming features, and testing iterations until a game is ready for market. If you love video games and enjoy working with computers, a career in video game development can be immensely rewarding. The average salary for a Game Developer in US is $115,846. The average additional cash compensation for a Game Developer in US is $14,692. The average total compensation for a Game Developer in US is $130,538.
Who is the target audience?
Anyone who wants to become professional game developer
Anyone who wants to learn and build professional games