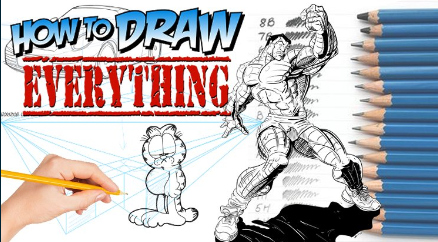 How To Draw – Everything! by Ed Foychuk
Release date:2023, February
Author:Ed Foychuk
Skill level:Beginner
Language:English
Exercise files:Yes
About This Class
Welcome to the "How To Draw EVERYTHING" course! Here, you'll learn and apply the fundamentals of drawing to various subjects and styles. You'll explore sketching and doodling techniques to capture the essence of your issues with short, loose lines. Using pencils and traditional drawing media, you'll also learn to draw portraits, landscapes, and human figures with accuracy and expression. Additionally, you'll delve into a technical drawing, including using linear perspective to create 3D illusions on a 2D surface. With over 30 different projects, this course will take you from beginner to expert and help you develop a strong foundation in drawing, preparing you to tackle a wide range of projects.
Here's what you get with the course:
Section One
In this course, you'll start from scratch and learn all the essential skills needed for drawing. You will be introduced to different drawing materials and learn basic pencil skills to help you deconstruct and reconstruct any illustration. This level is designed for beginners and is presented in an enjoyable and easy-to-follow format.
Section Two
Applying beginner skills to drawing different things
Learning perspective and plans for professional-level backgrounds and landscapes
Drawing everyday items like cars withdrawing secrets
Advancing drawing skills to a professional level.
Section Three
The upcoming section is the most challenging, focusing on the human figure and portrait drawing. I want you to know that you will acquire the necessary skills to excel in this area by building upon the fundamentals learned so far. Though it may be difficult, you can create artwork of a professional standard with hard work and practice.