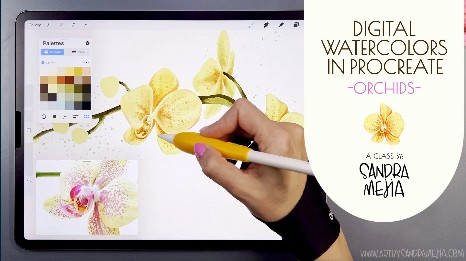 Digital Watercolors in Procreate – Orchids by Sandra Mejia
Release date:2023
Duration:01 h 06 m
Author:Sandra Mejia
Skill level:Beginner
Language:English
Exercise files:Yes
In this class, I'll teach you how to paint an orchid using digital watercolors in Procreate. You'll learn my step-by-step technique so that, afterward, you can apply it to whatever subject matter you choose.
In this class, you will learn the following:
How to work from reference pictures and use the liquify tool to make them fit your style
How to layer different colors, textures, and brush strokes to create a controlled watercolor technique that resembles painting wet on dry.
How to enhance your drawing after it's done
Step-by-step instructions:
Setting up your canvas
Installing your brushes and color palettes
Preparing your reference images
Creating the watercolor paper texture effect
Painting the different elements
Layering colors, details, and brush strokes to create the watercolor effect
Adding the finishing details
This class is suited for all levels. If you're a beginner, you can learn the whole process, and if you're a pro, you can learn how I create my watercolor effects and how my brushes perform.
For this class, you will need the following:
iPad with the Procreate app installed
Preferably an Apple Pencil so you can take full advantage of the brush pressure sensitivity capabilities