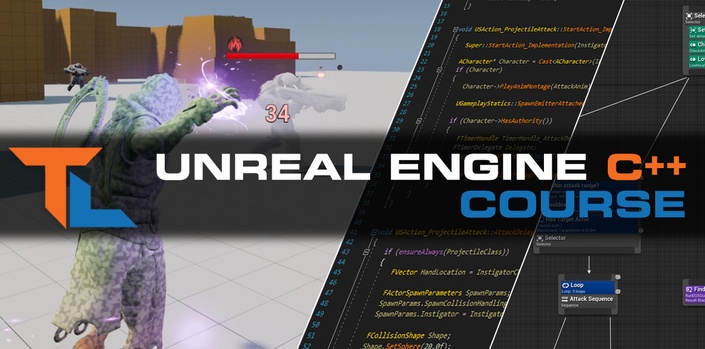 Professional Game Development in C++ and Unreal Engine by Tom Looman (06-2021)
Release date:2022
Author:Tom Looman
Skill level:Beginner
Language:English
Exercise files:Yes
Hands-on game development in C++ with Unreal Engine. A project-based course where you build a third-person action game and gain a solid understanding of the Unreal Engine C++ game development architecture that will boost your game development career!
It doesn't matter if you have been programming for a decade or barely a year…we can master the Unreal Engine together! The course has been designed to onboard those with some basic programming skills so we can get up to speed quickly to the most exciting parts of programming C++ with Unreal Engine 4 & 5!
Even today there is very little information about Unreal C++ available. This course packs every bit of information I could possibly include from 8+ years of experience into a curated learning path for a wide range of students.
Is this course for you?
You might be wondering if you are a good fit for this course. This course isn't for those without any programming skills whatsoever, there simply isn't time to teach general fundamentals of functions/variables and all the amazing intermediate/advanced content into a single course. You should have some foundational skills in programming, but it doesn't have to be C++. I went from C# into C++ myself pretty seamlessly (It was much easier than I had anticipated!), other languages like Java, Python, etc. will do just fine too!
Here are some types of students that would be a great fit:
Students in computer science or game development
Studio employees just starting out with or on their way to mastering unreal engine C++
Any Programming Professionals seeking to re-train themselves in Unreal Engine
Intermediate Unreal Developers looking to improve their C++ skills and learn new features
Those that are serious about a career in Game Development (Hobbyists welcome too of course!)
Students/Programmers still wondering if Game Development is for them (This is a great look into what game programming is like)
During the fall of 2020 this course was taught to Computer Science students at Stanford University (Video Game Development in C++ and Unreal Engine – CS193U) and received raving reviews from the students.