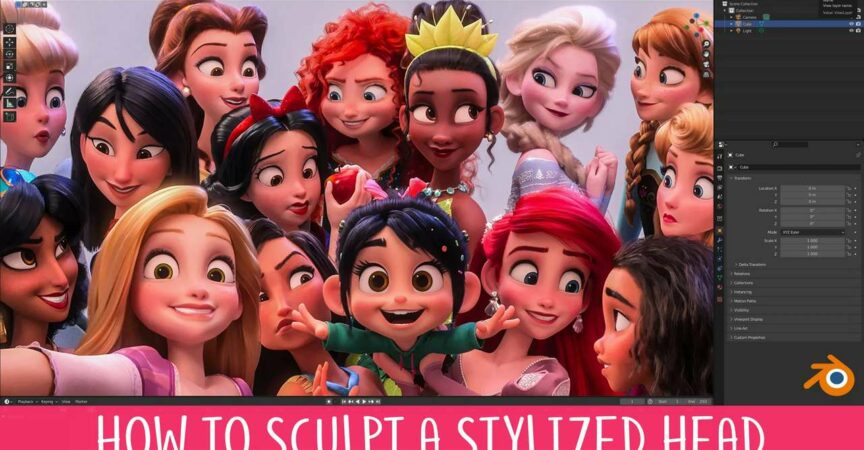 How to Sculpt a Stylized Head in Blender by Danny Mac (May 2023 Update)
Release date:2023
Duration:06 h 57 m
Author:Danny Mac
Skill level:Beginner
Language:English
Exercise files:Yes
The lessons are organized into appropriately labelled folders. It is advised that you stream the lessons online instead of downloading them, as the video files are large. However, if you prefer to download the videos, you can find them in zip files within the corresponding folder.
In addition, each section of the course has download content available within its labelled folder. These resources include Blender files and reference images/models to assist you in following along.
To fully utilize the 2D image references, it is recommended that you download PureRef, which is a free software available at https://www.pureref.com/. I have also provided a PureRef file alongside the 2D reference images. Although it is not mandatory to use PureRef, it will make viewing the images easier.
If you have any feedback, please do not hesitate to contact me. I would love to hear from you and learn how I can improve the content to better suit your needs! 🙂
Just a quick one to let you know the course has had a bunch of new videos added since my last message. The course now includes:
Modelling
Eyebrows and Eyelashes
Eyes
Shirt and Headband
Jewellery (part 1)
Jewellery (part 2)
Surfacing
Hope you enjoy the updates! Let me know if you spot any issues so I can correct them 🙂
What's next?
The next video will be the one I keep promising… Painting the Head!
After this I think we can get going with another much requested topic – The Hair 😀
Finally I will conclude the series with lesson(s) on lighting and rendering, as well as compositing in Photoshop.