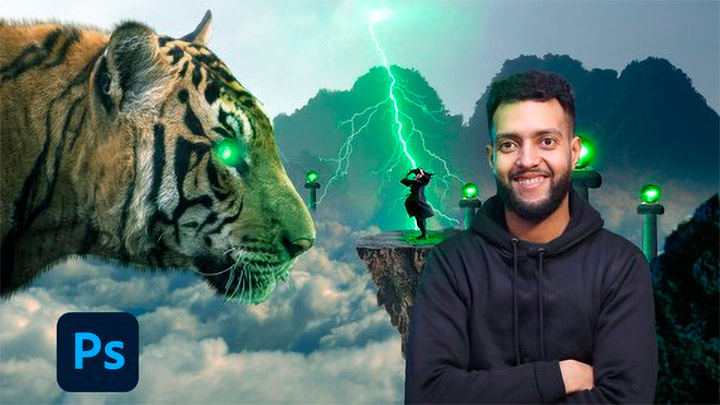 Photoshop plus – 30 days challenge to learn adobe photoshop
Release date:2023
Duration:07 h 04 m
Author:Joseph adam
Skill level:Beginner
Language:English
Exercise files:Yes
This course is a full program to learn graphic design with Adobe Photoshop. It covers topics from the basics of graphic design to advanced level and aims to help students create any design they want without any help. The course is divided into four weeks and covers topics such as working with projects, retouching tools, filters, painting brushes, commercial designs, photo manipulation, camera raw filter, and animated designs. By the end of the course, students will have great knowledge in graphic design and be able to start their careers as a designer and create their own artistic designs.
Join me in this comprehensive course to learn the ins and outs of Adobe Photoshop for graphic design. This is not just a simple course on tools but a complete program to master the art of graphic design from scratch. We will start with the basics of the layers system and visual design principles, and progress step by step to an intermediate and advanced level. By the end of the course, you will be able to create any design without assistance confidently.
Throughout the 30-day training program, you will learn a new and different aspect of graphic design each day, bringing you closer to becoming a professional graphic designer and enhancing your online and offline business.
The course is divided into four easy-to-follow weeks. In the first week, we will learn how to work with projects in Photoshop, including important tools for selection, cropping, merging, and retouching images. We will also explore the adjustments layer for color editing and the layer style window for adding text effects.
In the second week, we will delve into working with filters and painting brushes to create artistic designs, as well as tips and tricks to make the process more efficient.
In the third week, we will move to the next level by learning how to create commercial designs such as flyers, business cards, t-shirts, social media graphics, and web ad banners in various sizes.
In the fourth week, we will focus on photo manipulation, merging images in a professional manner, adjusting colors, sizes, lighting, and adding details and effects to designs. We will also explore the camera raw filter for editing and enhancing images taken with both phone and professional cameras. Additionally, we will learn how to create animated designs using the timeline feature in the software.
By the end of the course, you will have a comprehensive understanding of graphic design and be able to pursue a career as a designer and create your own unique designs. This course will take you from a novice with no experience in graphic design to a skilled and professional designer.