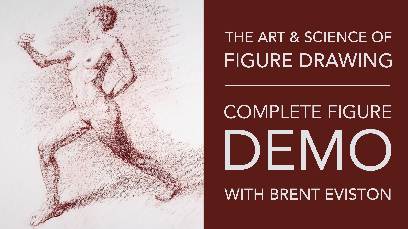 The Art & Science of Figure Drawing – Complete Figure Demo
Release date:2022, September
Author:Brent Eviston
Skill level:Beginner
Language:English
Exercise files:Yes
About This Class
Join Brent for his first full-length figure drawing demonstration. In this course Brent will lead you step-by-step through the entire process of figure drawing. Throughout this two-hour demonstration Brent will narrate his every move to make sure you always know what he is drawing, how he is drawing it and why he is making his decisions. Don't miss a mark or stroke in this detailed and revealing demonstration.
This course includes a high resolution photo of the pose Brent will be drawing from so you can do your own drawing. Draw along with Brent or simply watch and be inspired!
In this course you'll learn:
How to begin a figure drawing with a dynamic gesture drawing
How to use measuring to make sure your figure is in proportion
How to flesh out the figure using descriptive line quality
How to render the forms of the body with dramatic light and shadow
How to add subtle anatomical detail
How to know when a drawing is finished
Prerequisites
It is recommended that you have already gone through both The Art & Science of Drawing series as well as The Art & Science of Figure Drawing series.